For more than a century, Americans have celebrated national holidays to commemorate the irreplaceable roles of mothers and fathers in individual homes and society as a whole. But for all the hoopla surrounding Mother's Day and Father's Day, the same kind of attention has largely fallen off when it comes to Grandparents Day in the U.S.
Walk into any CVS or Rite Aid during the family holiday season and for every five columns of parental holiday cards, one will find maybe a single column of grandparent holiday cards. But having given a 70-year headstart to Mother's Day and Father's Day, Grandparents Day is well on its way to staking its own claim on national attention as it continues to grow in popularity.
Grandparents Day became an official national holiday back in 1978 when then-President Jimmy Carter signed a statute proclaiming a holiday "to honor grandparents, to give grandparents an opportunity to show love for their children's children and to help children become aware of strength, information and guidance older people can offer." Now, almost 40 years later, the first Sunday following Labor Day is dedicated to grandparents.
Of course, the simplest, yet still meaningful, way for children to celebrate Grandparents Day is to spend time with their loved ones. But perhaps this year a playing of "A Song for Grandma and Grandpa," the official song of the holiday in America, the purchase of forget-me-nots, the official flower of the holiday, or the post of a selfie with the hashtag #TakeAGrandie may seem appropriate.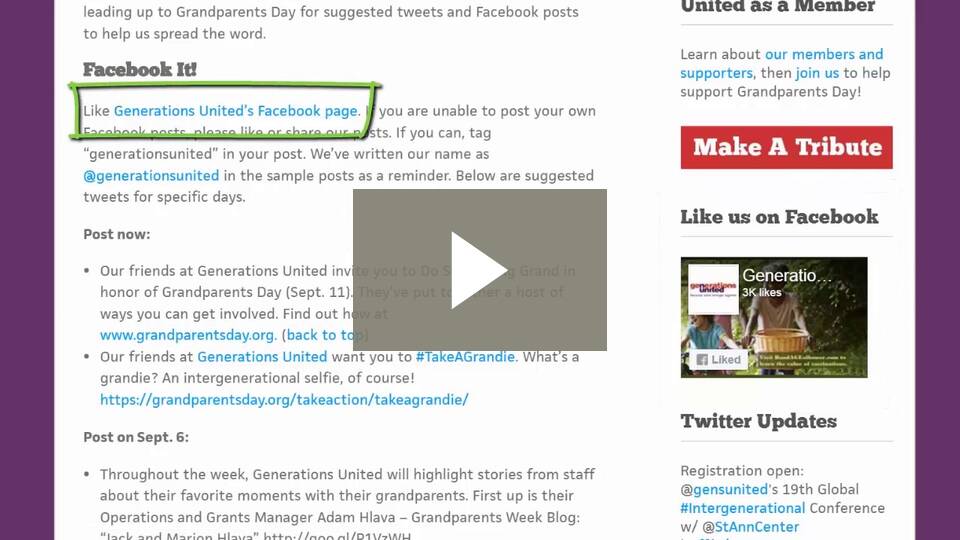 Generations United Grandparents Day Social Media Kit Tutorial — GrandparentsAcademy.com | Grow Meaningful Relationships + Rich Legacies With Your Loved Ones
Grandparents Day is also a great opportunity for intergenerational exchange. Take this day to finally teach grandparents how to use that iPad they got a couple years back or ask them about how life was different when they were growing up. These connections can help facilitate unprecedented mutual understanding. Whatever your choice may be, there are plenty of ways to celebrate grandparents.
However, this national holiday is not strictly limited to biological grandparental ties. For those whose grandparents have passed, Grandparents Day can also serve as a day of appreciation for other grandparental figures in their life. Don't limit the day to biological family but also spend the day doing something grand for older adults in the community.
As much as Grandparents Day is a celebration and moment of appreciation for grandparents, it is also a day for the older community to continue its neverending service of providing wisdom and advice to the next generations. This holiday is a day for all people, young and old, to come together and build a stronger, more united community.
Grandparents Day will be on Sept. 10 this year. Visit www.grandparentsday.org for more tips and ideas.